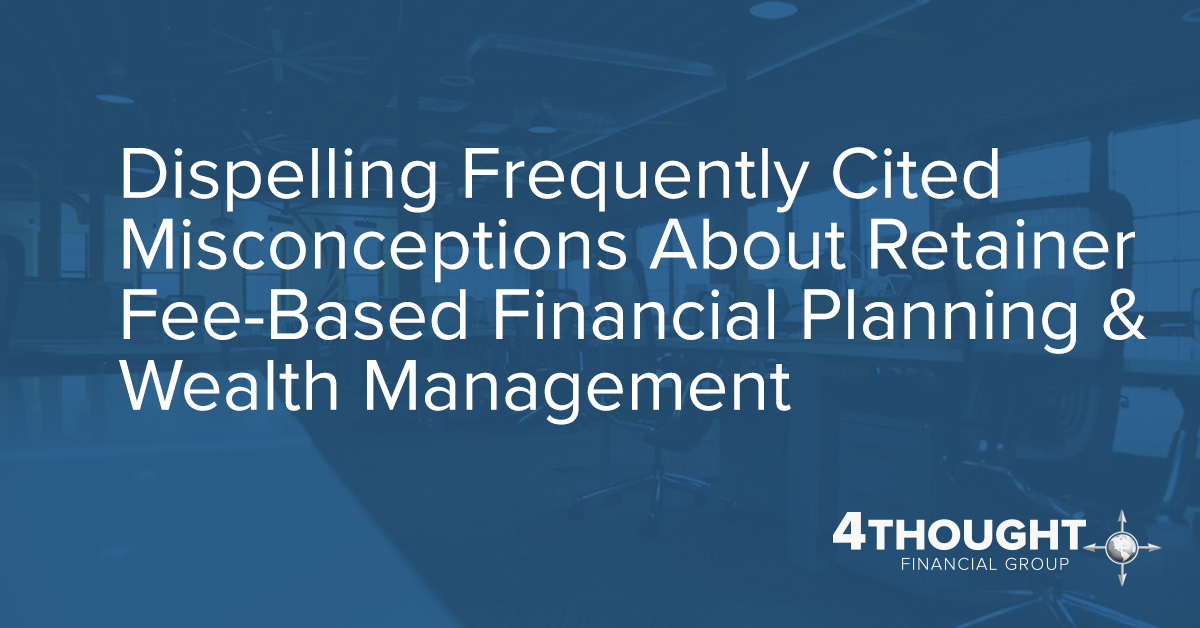 Info Sheet - PDF Download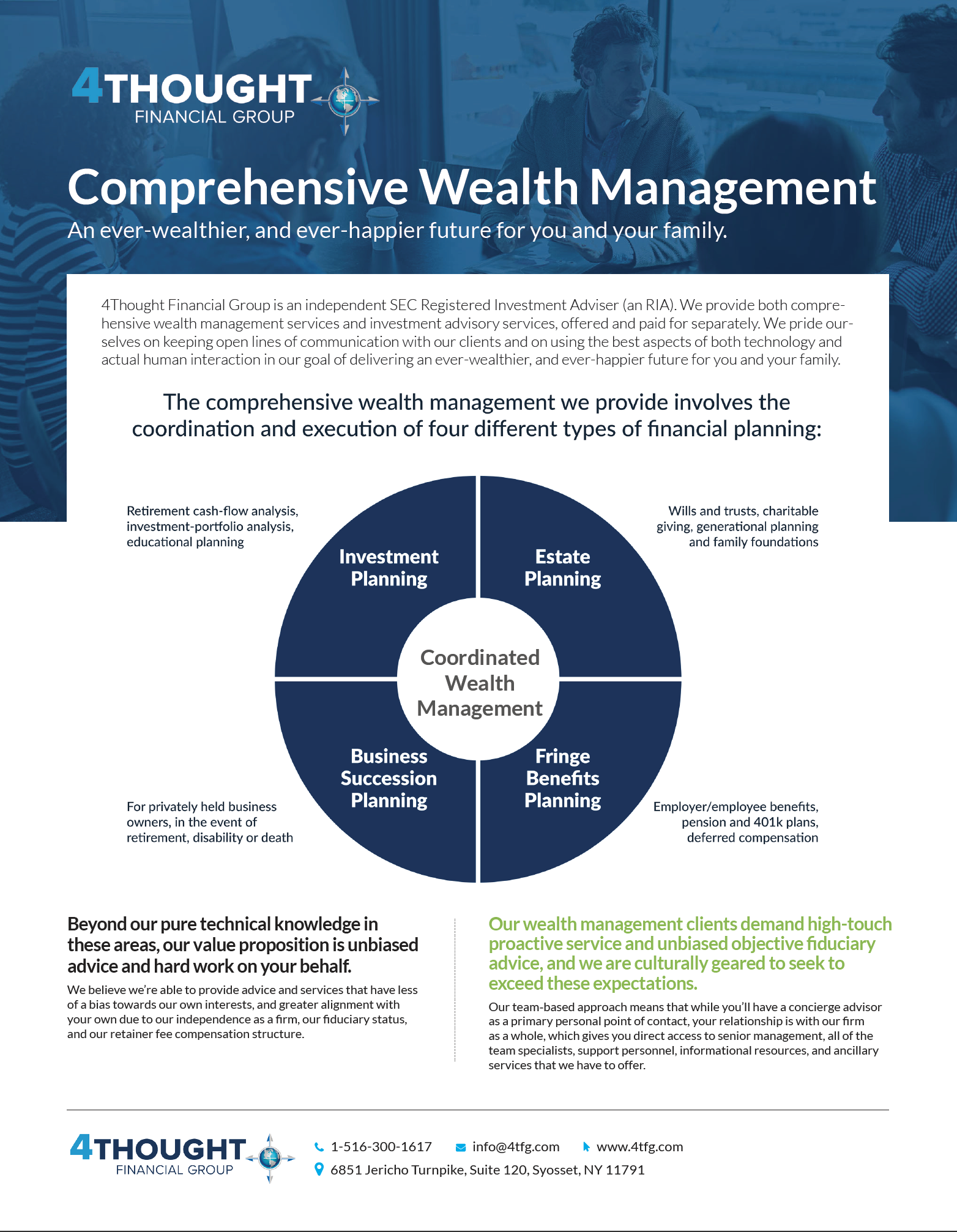 Wealth Management by 4Thought Financial Group
"The comprehensive wealth management we provide involves the coordination and execution of four different types of financial planning: Investment Planning, Estate Planning, Business Succession Planning and Fringe Benefit Planning."
View the PDF
Save the PDF
Retainer fee-based financial planning and wealth management services administered by trusted fiduciaries who act on your behalf can be instrumental in helping you achieve your lifelong financial goals. This includes developing a financial plan most aligned with your objectives, constantly revisiting and adjusting this so-called "fiscal roadmap" or "blueprint" in response to life events to ensure you remain on track, and providing insightful guidance to help navigate the various stages of your personal and professional life.
If you're unfamiliar with the many advantages of such financial planning and wealth management services, the following explainer provides a helpful breakdown of several beneficial characteristics, while also dispelling common misconceptions and frequently cited obstacles that may be dissuading you from utilizing professional help of this type.

Cost
One of the biggest misconceptions about retainer fee-based financial planning and wealth management services is that it costs too much. This couldn't be further from the truth, however.
"Retainer fee," as its name implies, by definition, utilizes ongoing, fixed dollar amount fees that are either the sole or primary compensation for the advisory services rendered. The cost is often minimal relative to the scope of the engagement, yet this format differs significantly from other models, such as "assets-under-management," "one-time fee," or "commission-based" structures. By design, the retainer fee-based configuration is intended to help diminish or entirely resolve potential conflicts of interest inherent within other pricing arrangements.
Commission-based models, for example, incentivize the selling of financial products by purported "advisors." The more they sell, the more commission they earn—regardless of these products' performance toward achieving your goals.
Only "fiduciaries" are legally bound to solely work in the best interests of clients. It's an official term used by the U.S. Securities and Exchange Commission in making Registered Investment Advisers (RIAs) fundamentally obligated to do so. More on this in a moment.
Financial professionals working on a retainer fee basis will often conduct a thorough—forensic, even—budget and cash-flow analysis examining nearly every element of your financial life, from spending habits and lifestyle expenditures to savings, investments, obligations and resources, and help identify areas to reduce ongoing expenses while maintaining your standard of living.
A common finding is that the minimal cost of employing retainer fee-based financial planning and wealth management services can often be completely offset by resulting expense reductions—and ultimately, save you money.


Need
Another major misunderstanding about retainer fee-based wealth management and financial planning pertains to its need, with many would-be clients erroneously believing such services simply do not possess the intrinsic value warranting its enlistment or minimal relative expense.
The truth of the matter is that most people can benefit from retainer fee-based financial planning and wealth management services, regardless of their age, financial history, profession, or life stage.
As aforementioned, such services are intended to help ensure you continuously remain on track to achieve your lifelong financial goals. These can include purchasing a home, saving for your children's education, preparing for retirement, generating income in retirement, efficiently passing on an estate or business to heirs, charitable planning, and many other objectives.
Critical to fulfilling these achievements is the development of a financial plan customized to your specific lifestyle, dreams and individualized goals. Designed by fiduciaries for optimal alignment with these, this highly personalized "roadmap" or "blueprint" not only charts your course, but is tailored along the way to ensure you stay on course, regardless of life's many unforeseeable twists and turns.
Comprehensive wealth management encompasses the coordination and execution of four distinct areas of financial planning, each focusing on several key elements critical to specific periods throughout one's life.
Among these:
Investment Planning, involving investment-portfolio analysis, educational planning, and retirement cash-flow analysis
Fringe Benefit Planning, pertaining to deferred compensation, pension and 401K plans, and employer/employee benefits
Estate Planning, encompassing charitable giving, wills and trusts, family foundations and generational planning
Business Succession Planning, for business owners, in the event of retirement, disability and death



It makes sense. To quote the legendary New York Yankees wise man Yogi Berra: "If you don't know where you're going, you'll end up someplace else."




Long-Term Contract Constrictions (Psst, there usually aren't any.)

Many people may also harbor trepidation about being locked into a long-term contract, which leads us to another fantastic factoid about enlisting an experienced retainer fee-based financial planning and wealth management firm: This is simply not the case under most retainer fee-based agreements.

Within the "retainer fee" model, you pay a financial professional to be that fiduciary for you, to look at all the different aspects of your planning, devise a financial plan, and help implement it, not for a one-time fixed fee, but rather, an ongoing, smaller, monthly or quarterly fee.

Among the associated benefits with this: The advisors are not being paid for any one area of expertise or any one service, such as solely portfolio management, or solely reviewing your insurance. They're not being paid on a commission basis, not trying to sell you a particular product, and not attempting to convince you to do a particular transaction, either.

Yet they are on the hook, so to speak, to continuously provide you with advice-based solutions—and not necessarily product-based solutions.

These fiduciaries can be more objective, they can look at all the different areas of your life, and not focus on just one thing, or that which will make them more money. They can do this in such a way, too—rather, they're forced to do that in such a way—that they must continuously do so for you, because if they stop, you're going to stop paying them.

It's as simple as that. Based on all the different models that are out there, retainer fee-based financial planning and wealth management probably provides the closest alignment of client objectives with financial professionals' incentives.

Related: Can Retainer Fee-Based Financial Planning & Wealth Management help Couples Address Money-Related Relationship Problems?

Income Limitations

Another common misbelief regarding the retainer fee-based structure is that Only Wealthy People Can/Should Utilize It.


Once again, this is usually not true.

As we've noted, financial planning and wealth management serves a wide range of functions in helping achieve lifelong financial goals. This pertains to people of all age groups, all professions, all income brackets, with any number of objectives. By design, the retainer fee-based framework inherently depends upon the acute details of a person's lifestyle habits, expenses, purchasing patterns, and much more, to again, best align the incentives and strategies with accomplishing the outlined objectives and attaining associated results.

Whether blue-collar or white-collar or somewhere in between, it does not matter. Retainer fee-based financial planning and wealth management strives to attain goals, with periodic fine-tuning to adapt to any life events or changes that may happen along the way. (And they will.)



False Expectations

As outlined above, comprehensive, retainer fee-based financial planning and wealth management services encompass a great many strategic elements preparing you for various stages of your financial life.

It usually does not, however, involve or incorporate the various duties and functions performed by an attorney or accountant (ask your provider for details on this).

A trusted financial planner or wealth manager will often recommend specific attorneys and accountants for particular services should certain circumstances arise in which they are needed, but you generally should not expect your planner to act in their capacity or conduct related work in their stead—unless they explicitly state that they will do so in writing.

Common tasks inaccurately associated with financial planners and wealth managers that should be performed by an accountant or attorney include tax preparation and the drafting of legal documents, among many others.

4Thought Financial Group

Headquartered in New York, retainer-fee-based financial planning and wealth management firm 4Thought Financial Group is an SEC Registered Investment Adviser consisting of a team of experienced fiduciaries dedicated to working in clients' best interests.

Our comprehensive financial advisory services encompass the development and maintenance of a personalized financial plan outlining your objectives, with the guidance and expertise intended to ensure you remain on track to accomplish these.

This includes various aspects of Investment Planning, Fringe Benefit Planning, Estate Planning, and Business Succession Planning.

With 4Thought Financial Group, there is no contractual term commitment.

4Thought Financial Group
To learn more about our retainer fee-based financial planning and wealth management services, the different types of financial planning services, our Multi-Method Investing strategy, or other components of your financial life, Download Our FREE White Paper above, and Contact 4Thought Financial Group, Today.
Financial Planning and Investment Advisory Services are offered through 4Thought Financial Group Inc., an SEC Registered Investment Adviser. This document is for informational purposes only and does not constitute a complete description of our services or performance. This is in no way a solicitation or offer to sell financial planning or investment advisory services except, where applicable, in states where we are registered or where an exemption or exclusion from such registration exists. This information is not to be construed as legal or tax advice. Consult with an attorney and/or an accountant before taking any action on the information provided.