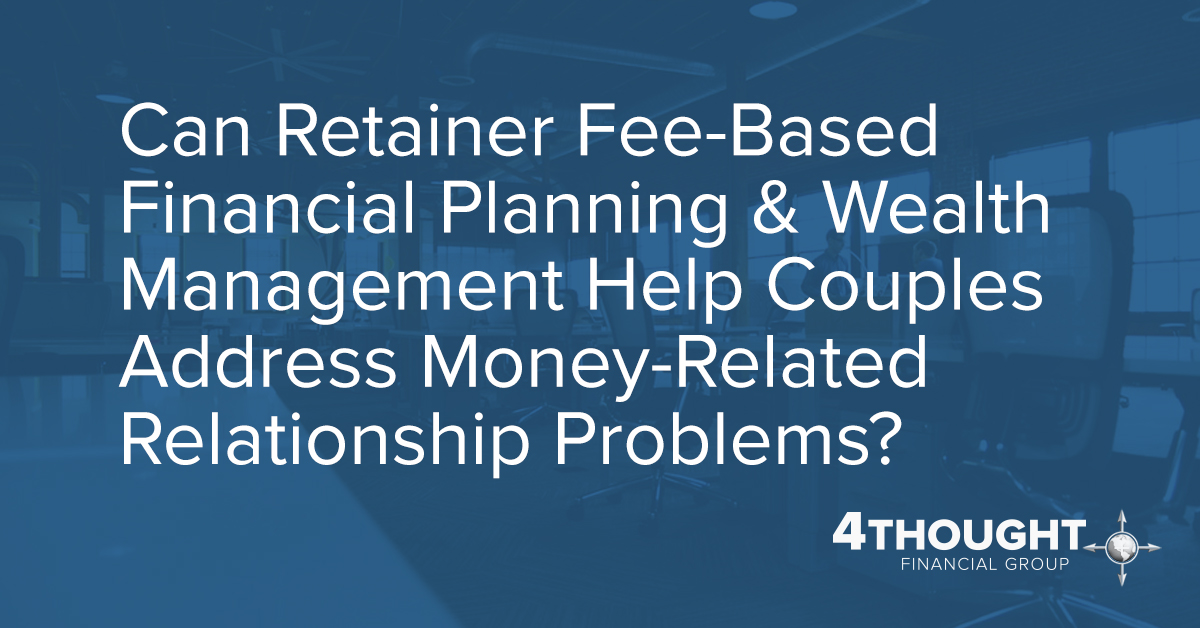 Info Sheet - PDF Download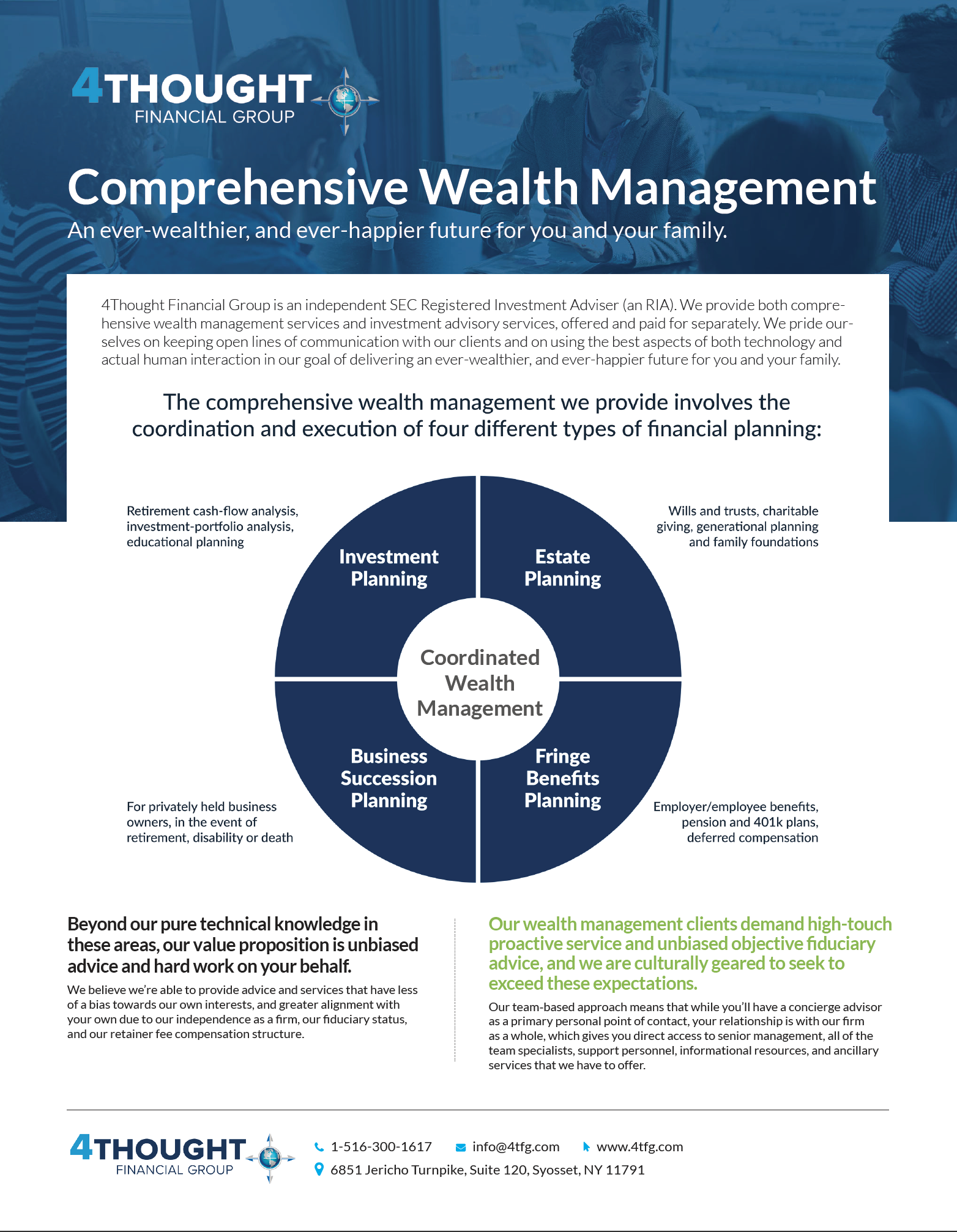 Wealth Management by 4Thought Financial Group
"The comprehensive wealth management we provide involves the coordination and execution of four different types of financial planning: Investment Planning, Estate Planning, Business Succession Planning and Fringe Benefit Planning."
View the PDF
Save the PDF
It's well established that finances and money-related matters can be a prime source of disharmony within a marriage or relationship.
Understandably so. Between rent or mortgage payments, property taxes, car and health insurance, utilities and entertainment costs, retirement and/or college savings, and the daily necessary living expenses associated with home ownership, transportation, and/or children, it can add up.
And these are just a brief rundown of some of the known expenses; unaccounted for are those unexpected costs that inevitably arise throughout the course of life.
Consequently, employing efficient budgeting practices, sound financial planning, and adopting appropriate spending habits are mission critical to ensure you and your loved ones live within your means, and remain on track to achieving your short- and long-term financial life goals.
Doing so may help alleviate the potential stresses and strife that may arise between spouses regarding a household's shared finances.
"How do I convince my spouse to stop spending so much money?"
This is an all-too-common question posed by both men and women alike, and testament to the significant role money plays in facilitating—or undermining—marital bliss.
In fact, one analysis published in Family Relations: Interdisciplinary Journal of Applied Family Science concludes that when "compared to nonmoney issues, marital conflicts about money were more pervasive, problematic, and recurrent, and remained unresolved, despite including more attempts at problem solving."
There is an entire branch of therapy, known as (you guessed it) "financial therapy," in which licensed holistic practitioners and counselors concentrate on resolving the foundational psychological, emotional, behavioral and relational underpinnings motivating spending behavior.
Crunching the numbers on the analytical side of this equation, and utilizing several key tenets of comprehensive wealth management to assess and develop efficient and effective financial strategies that can at least make the path toward sound fiscal health a bit clearer, are retainer fee-based financial advisors.
Thus, the financial planner and wealth management advisor have inherently evolved into the function of so-called 'financial therapists,' 'financial counselors' and 'budget mediators'—with some relationship advice experts actually calling for the creation of a financial plan and/or visit to a financial planner as critical steps toward a meaningful resolution.
How Can Sound Financial Planning Help Clients Address Money-Related Relationship Problems?
A fundamental component of true, retainer fee-based financial planning and comprehensive wealth management is the development of a personalized fiscal roadmap to achieve individual and collective financial objectives.
This entails getting to know the clients and the many diverse aspects of their financial—and to a degree, personal—lives, including such factors as their income, savings, and lifestyle expenses.
An independent and objective assessment should be conducted by a third-party fiduciary acting solely in the best interests of these clients, and among other components should encompass:
Living Expense Analysis
Cash Flow Analysis
Recommendations for Improvement
Budgeting

Having a professional act as an objective mediator can help married couples—or any client for that matter—identify financial frictions and unnecessary expenditures, implement fiscally responsible strategies and efficiencies, make more informed decisions regarding their financial activities, and set them on a clearer path toward achieving their life goals—without causing the undue emotional stress often associated with such discussions between couples alone.
4Thought Financial Group
For more information on the above and to review budgeting and cash flow needs, please contact 4Thought Financial Group at info@4tfg.com for additional information on how to best plan for your financial future.