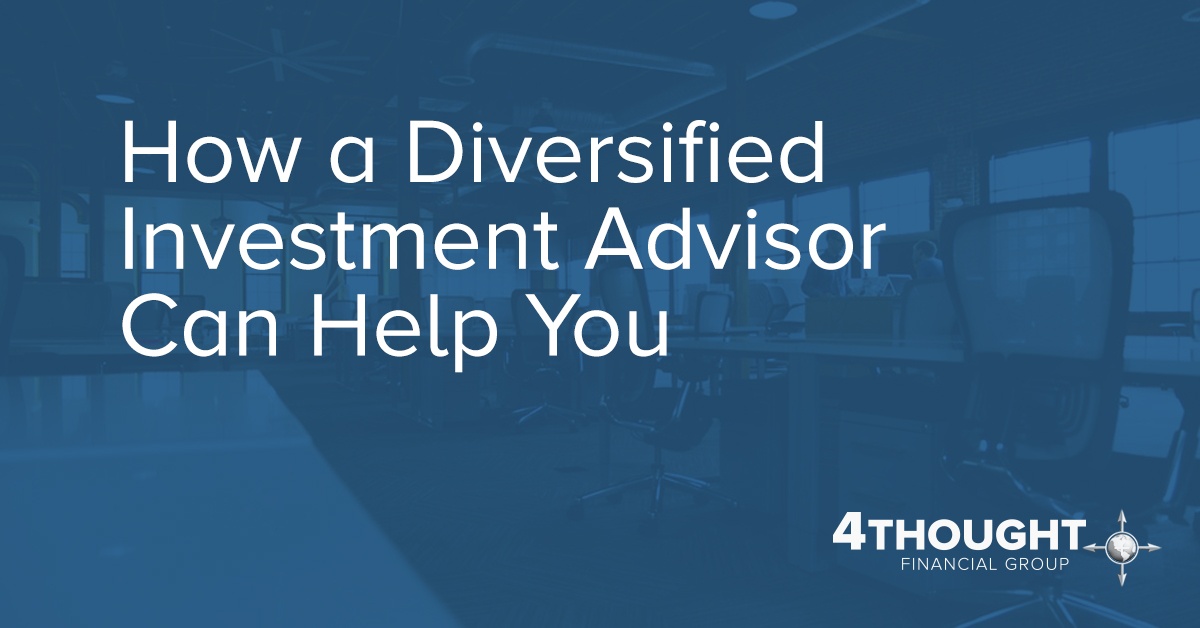 Info Sheet - PDF Download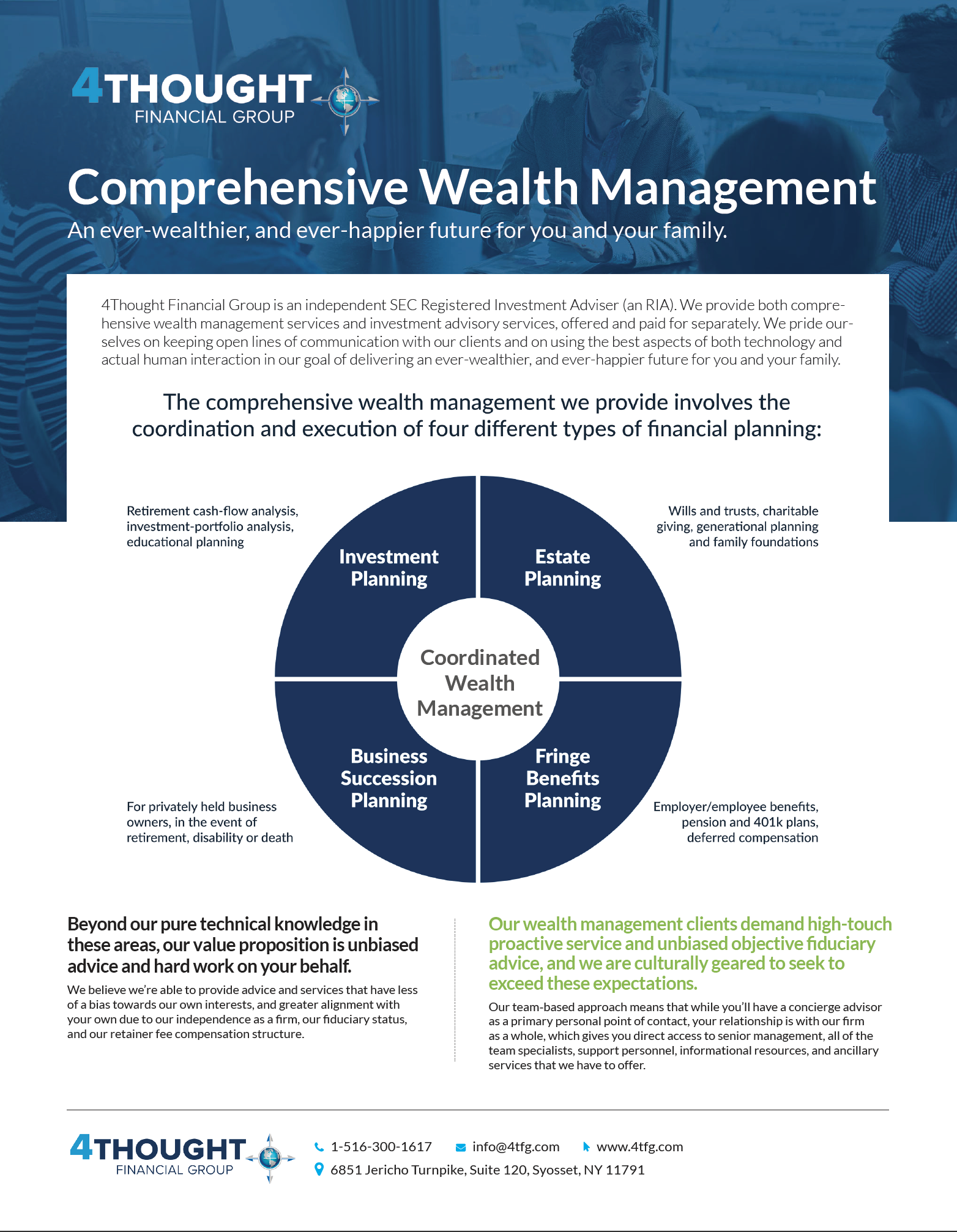 Wealth Management by 4Thought Financial Group
"The comprehensive wealth management we provide involves the coordination and execution of four different types of financial planning: Investment Planning, Estate Planning, Business Succession Planning and Fringe Benefit Planning."
View the PDF
Save the PDF
Most people don't go much further than investing in their 401(k) plan when it comes to financial planning and investing for retirement and other goals. But your planning and investing should not end at the 401(k) plan. A world of opportunity for diversification amongst investment vehicles, asset classes, and investing strategies awaits you outside your employer-sponsored plan. Taking advantage of this can potentially significantly improve your wealth accumulation over time.
While diversifying amongst investment asset types doesn't guarantee you'll make more money, it increases the likelihood that even when one part of your portfolio is struggling, another investment may be thriving. Of course, navigating the financial waters of investing takes time and energy. You may be best served in your investment pursuits by partnering with a reputable fiduciary advisor, who can develop strategies to maximize your success.
What is a diversified investment advisor?
A diversified investment advisor is one that is equipped with a wide range of conceptual financial tools to give guidance about exactly what investment vehicles, account types, asset classes, and investment methods should be used to move investors towards their personal financial goals. Such an advisor will often develop a broad conceptual investment plan, and then may implement it by selecting a series of portfolio models that seek to spread risk across a variety of asset classes, strategies, and investment methods, in an attempt to optimize the portfolio to reduce potential losses and amplify potential gains.
Once such an investment plan has been implemented, a diversified investment advisor will often directly manage investors' funds (or outsource to a third party) and tailor day-to-day maintenance accordingly, always with the clients' best interests in mind (assuming a fiduciary advisor has been selected).
Here's a further breakdown of the role and responsibilities of a diversified investment advisor:
The development of a conceptual investment plan, proposal, or investment policy statement outlining an investor's portfolio goals and the steps and/or methodology to be used to accomplish these targets.
The identification of appropriate investments for investors' portfolios, following extensive research into those best aligned to achieve investors' aforementioned objectives.
The continuous monitoring and evaluation of investments, with frequent reporting updates, and transparent and easily accessible viewing options for investors.
Performing timely and reasonable actions in investors' best interests and offering suitable alternatives to ensure the portfolio is on track toward achieving the goals outlined in the investment plan.
How to Choose a Diversified Investment Advisor
Not all diversified investment advisors are created equal, and the best way to find a partner in financial services is not necessarily through a personal recommendation. Fortunately, there are a few signals that someone is a solid investment advisor, so you don't have to fly completely blind.
If you're in the market for a new person to manage your diversified investments, look for:
A representative of a Registered Investment Adviser (RIA) with a solid code of ethics. Your planner and/or investment manager should be a fiduciary, not a stockbroker paid based on transactions made. In short, being a fiduciary means a representative of an RIA is obligated to look out for your best interests and not just their own druthers for investing. Their compensation package is often designed to reflect this, in which they'll be paid based off of a fee for services and/or a fee based on assets under management, and not based on transactional commissions.
Evidence the advisor has knowledge of diversified investments across asset classes, investment vehicles, and investment methods. For example, a good diversified investment advisor will have worked with global stocks of small and large companies, bonds of various types, and be able to offer educated advice regarding alternative investments such as commodities, real estate, hedge funds, and private equity. They will also have knowledge of individual securities (stocks and bonds), mutual funds, exchange traded funds (ETFs), and separately managed accounts (SMAs). Furthermore, additional knowledge across various methods of investing could prove helpful (ie. Strategic Asset Allocation, Liability-Driven Investing, Opportunistic Investing, and Selective/Concentrated Investing).
Firms that claim compliance with "GIPS" (the Global Investment Performance Standards). This is a set of industry-standard rules for calculating and presenting past investment performance data that is put out by a private organization called the CFA Institute. Firms that claim compliance claim to be adhering to a very strict and rigorous set of rules, some of which include the need to present performance net of (after) fees based on the aggregated actual performance of all of the actual client accounts managed according to a given strategy. Often these firms will also be audited and verified as GIPS compliant by a third party verification firm. You can ask to see a copy of the GIPS compliant performance disclosure presentation and the verification letter or report.
Consider a financial advisor who is a CFP (certified financial planner). Although the CFP designation is certainly no prerequisite to qualify as a good advisor, this title indicates they've at least undergone some basic training in various aspects of financial planning, and have passed a rigorous exam from the Certified Financial Planner Board of Standards. CFPs must undergo continuing education classes on ethics and other financial matters to retain this designation, which is issued by a private organization.
Common Types of Investment Vehicles
Diversifying investments doesn't just mean choosing a whole bunch of stocks. Diversification is mainly based on the principles of asset allocation, which looks not just at the number of securities you own, but the type of securities (stocks, bonds, cash, real estate, etc.) and the degree to which the returns of the assets move together over time (You'll want assets that move as independently of one another as possible). But in order to get your exposure to these underlying "asset classes" you'll need to choose the appropriate investment vehicles or product wrappers for your situation.
Here are a few of the investment vehicles an advisor may recommend:
Individual Stocks: Investments in individual stocks are what most people think of when they think of investing. When you own an individual stock security you own a direct share in the company that issues the stock, and you're thus directly exposed to all the risks (and potential rewards) associated with that company and the market for its securities. You'll need a lot of individual stocks to build a diversified stock portfolio and appropriately limit your downside risks.
Individual Bonds: When you invest in the individual bond of a company, government, or municipality, you are effectively making a loan to that entity in expectation of receiving a regular interest payment and your principal back at the end of the term of that loan. This is often referred to as a fixed income investment. The benefit of investing in an individual bond is that you theoretically should receive a predetermined predictable rate of return on your investment if you hold to maturity. But just like with individual stocks, you're directly exposed to all the risks of the associated company and the market for its securities. If the issuer of the bonds defaults on their loan, you could lose some or all of your money. You'll need a lot of individual bonds to build a diversified bond portfolio and appropriately limit your downside credit risks.
Mutual Funds: These pooled assets are a popular choice for investors who don't want to purchase stocks and bonds one at a time. Instead, you buy in to a fund that holds an underlying portfolio of many individual securities. A mutual fund may be specialized in one asset class, strategy, or sub-asset-class, or it may be more diverse and include stocks, bonds, money market funds and other assets in the same fund.
Though a traditional investment vehicle often recommended by some advisors, mutual funds have several significant drawbacks, among these: They may be more expensive and less tax-efficient than other vehicles, and open-end funds are only tradable once per day.
Exchange-Traded Funds (ETFs): An ETF is similar to a mutual fund in that it is a wrapper for an underlying portfolio of multiple individual securities. However, unlike a mutual fund, your ETF is tradable on an exchange like a stock. ETFs tend to be cheaper than mutual funds (often because they passively track an index), they're more tax-efficient, and they're tradable throughout the day.
Separately managed accounts (SMAs) and fee investment advisory accounts: These are a bit different from all the other investment vehicles listed in that SMAs and investment advisory accounts can actually hold all of the other listed types of vehicles inside a single wrapper. An SMA is typically managed according to a predefined strategy or investor objective by a professional investment manager (or team of them), and is a coordinated continuously managed portfolio that may include individual securities as well as ETFs, mutual funds, and other investment vehicles.
The internet has also revolutionized investing, providing greater transparency and accessibility, while also introducing the industry to those who perhaps would have otherwise never invested at all. Nowadays, robo-advisors—online financial advisors, who offer advice and portfolio management services online, often using computer algorithms and plenty of data analysis—can provide access to private separately managed accounts for a mass marketplace (whereas historically this has only been available to those with hefty initial investments).
Diversification does not guarantee investment returns and cannot eliminate market risk or investment losses.
---
Your Best Interests In Mind
Diversified investment advisors who claim to be fiduciaries must keep investors' best financial interests in mind.
Knowing how to allocate and manage investment portfolio assets takes the knowledge of an experienced and diversified investment advisor, so forming a relationship with a reputable one can pay off, big time.
Wealth management firm 4Thought Financial Group, located in Syosset, NY, seeks to help investors achieve their personal financial goals through fiduciary investment planning. The firms also offers an implementation platform that includes data-driven algorithmic processes designed to manage client investment portfolios according to a diversified "multi-method investing" approach.
4Thought Financial Group's team consists of experienced fiduciaries—not salespeople—whose primary focus is securing their investors' financial future and accomplishing their stated objectives.
Begin building your wealth today, with 4Thought Financial Group.