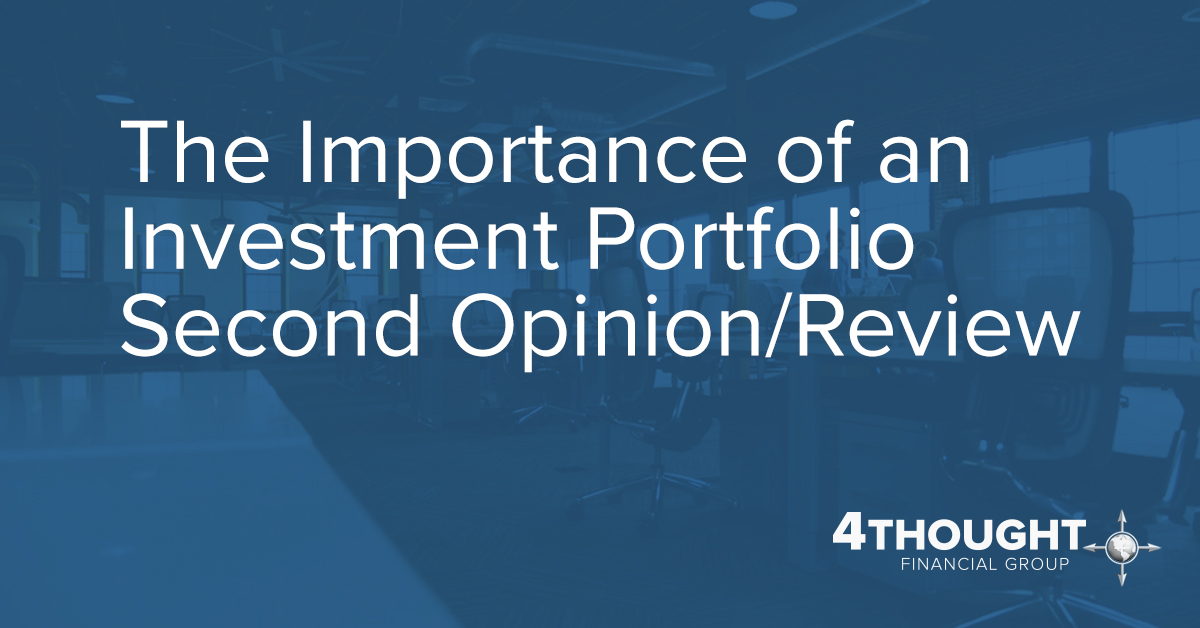 Info Sheet - PDF Download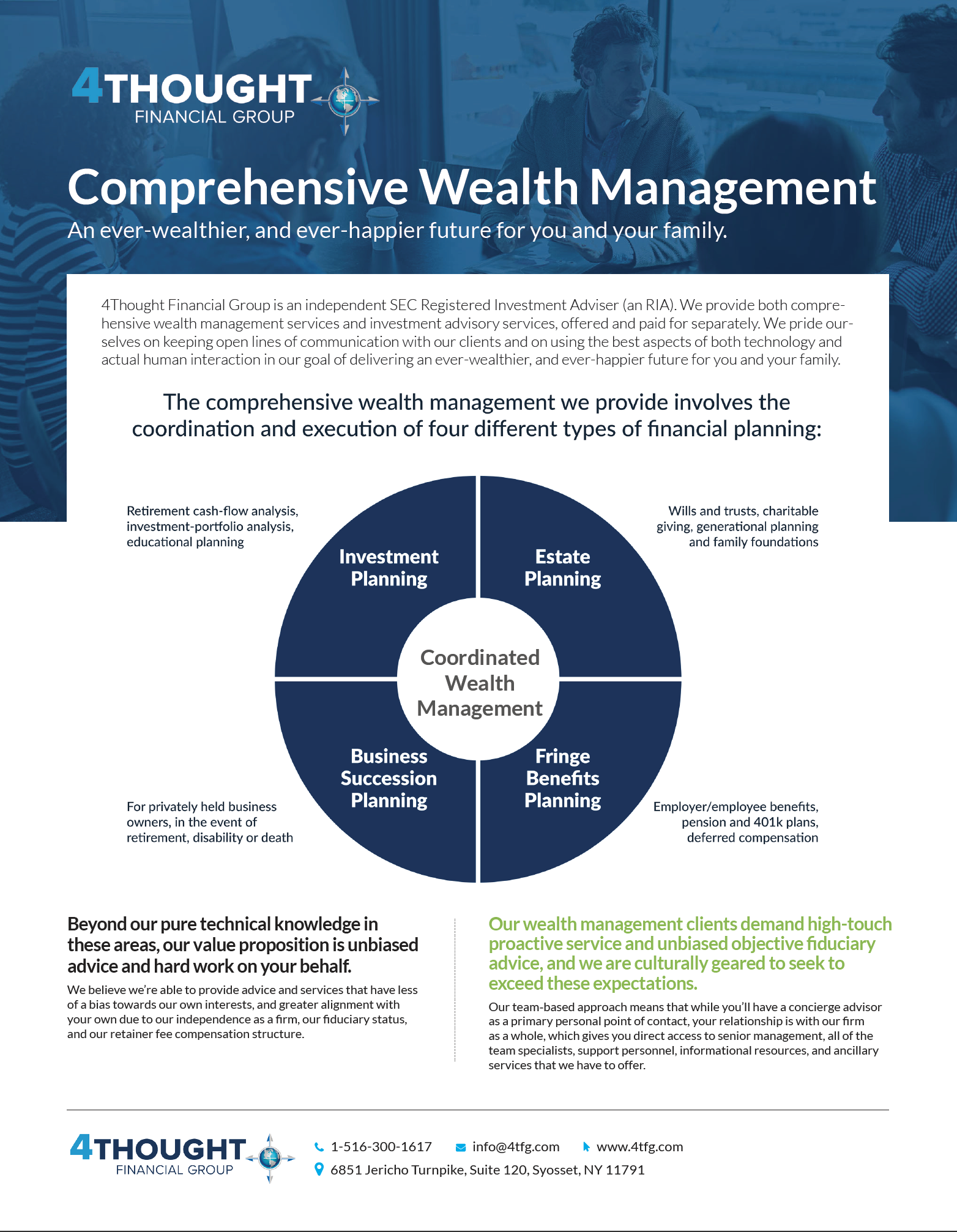 Wealth Management by 4Thought Financial Group
"The comprehensive wealth management we provide involves the coordination and execution of four different types of financial planning: Investment Planning, Estate Planning, Business Succession Planning and Fringe Benefit Planning."
View the PDF
Save the PDF
When you're sick, you visit a doctor. If your ailment persists or you're told you need a more serious remedy, such as surgery, you get a second opinion from another.
Even when you're feeling well, you still schedule a routine checkup.
Why? Because when it comes to your health, you don't mess around. You want to ensure you've been diagnosed properly and are receiving the most effective treatment possible to achieve optimal health.
Your financial health and well-being may also benefit from a periodic wellness check, or second opinion, every so often.
A Second Opinion/Portfolio Review Could Benefit Both CPAs & Individual Investors
For CPAs, such a review can help ensure your clients are following the proper roadmap toward attaining their ultimate financial objectives.
For individual investors, this in-depth analysis can also grant that all-important confidence and peace of mind that comes from knowing a sound plan is in place and your investments remain on track toward achieving your personal financial goals.
Markets change, and so does life. Your investment portfolio should adapt, too.
A second opinion may identify and even help rectify problems with your current strategy, or simply provide an outside perspective to verify your current advisor is utilizing the most effective methodologies to attain your financial objectives.
How Do You Determine Whether An Investment Portfolio Second Opinion/Review Would Be Helpful For You Or Your Clients?
Ask yourself the following basic questions:
Do you or your clients know what they are paying in fees and expenses?
Are they paying too much for substandard client services?
Is the portfolio optimized for tax efficiency?
Can further steps be taken to avoid unnecessary taxes?
Have the asset allocation and investment vehicles been continuously updated to reflect changes in the investor's life circumstances?
Is the allocation appropriate now?
And, perhaps more importantly:
Do you or your clients have a financial plan?
Do you know whether your advisor is a true fiduciary?
If You Answered "No" or "Not Sure" to Any of These, If You Think You May be Paying Too Much in Fees—or If You Simply Don't Know How Much You're Paying—You Need a Second Opinion.
What Is a Portfolio Second Opinion?
An investment portfolio second opinion, also called a "portfolio review," is a detailed analysis of your financial holdings and associated strategies, allocations, fees and performance, to determine whether the most effective instruments and methodologies are being utilized to reach your goals.
Ideally, this would be conducted by an independent, third-party fiduciary.
Importance of a Fiduciary
"Fiduciary" is a legal term used to denote someone who acts in the best interests of others. Derived from the Latin word "fiducia," it literally means "trust." In finance, a true fiduciary works in the best interest of clients to ensure the appropriate strategies are being employed and investors remain on target and are best aligned to accomplish their financial objectives, often as outlined in a financial plan.
Importance of a Financial Plan
How can you or your clients possibly ensure they're headed toward a sound, stable financial future, or even know how to get there, without a predetermined, constantly modified, financial plan?
They can't, and ultimately, won't.
This comprehensive outline serves as a fiscal roadmap or blueprint, identifying financial resources, obligations, risks and goals, while setting forth the guiding strategies critical to successfully actualizing said objectives. It is also consistently revisited, updated and modified to ensure efficiency.
Beware: Salespeople Charading as Fiduciaries
Unfortunately, many "financial advisors" and "brokers" are not fiduciaries, and thus, not obligated to act in the best interests of clients. Rather, they act as salespeople peddling financial investment vehicles, such as mutual funds, working on a "suitability" basis as opposed to a more stringent "fiduciary" basis. They typically work on commission and are only compensated if they successfully sell you something. They may also have additional inherent conflicts of interest and be incentivized to sell certain products or services, no matter their clients' true needs.
This means it may be in their own personal best interests (and not necessarily yours) to sell more of such products to you, since they're enriching themselves in the process.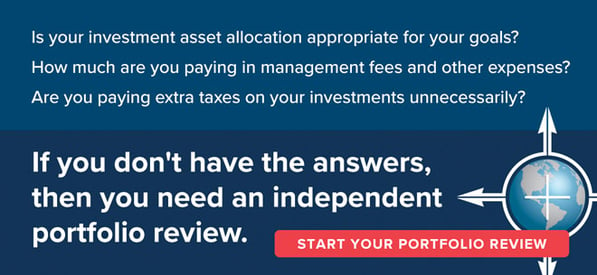 4Thought Financial Group
Retainer fee-based financial planning and wealth management firm 4Thought Financial Group is a U.S. Securities and Exchange Commission (SEC) Registered Investment Adviser (RIA), whose representatives are fiduciaries dedicated to acting in your best interest.
Benefits of a Second Opinion Portfolio Review:
Objective Investment Portfolio Analysis and Services Review
Assessment of Allocation, Tax Efficiency, Fees and Expenses
An independent fiduciary SEC Registered Investment Adviser
Flat One-Time Fee of $500 (Half Paid Up Front, Half on Delivery)
Fee for Service Only – No Commissions or Product Sales
As aforementioned, receiving a second opinion on your investment portfolio possesses several significant advantages, and can help ensure you are on the right path to achieving your financial goals.
4Thought Financial Group
Questions regarding different types of financial planning services, retainer fee-based wealth management, or other aspects of your financial life? Contact 4Thought Financial Group to Schedule a Second Opinion on Your Investment Portfolio, Today.
Financial Planning and Investment Advisory Services are offered through 4Thought Financial Group Inc., an SEC Registered Investment Adviser. This document is for informational purposes only and does not constitute a complete description of our services or performance. This is in no way a solicitation or offer to sell financial planning or investment advisory services except, where applicable, in states where we are registered or where an exemption or exclusion from such registration exists. This information is not to be construed as legal or tax advice. Consult with an attorney and/or an accountant before taking any action on the information provided.