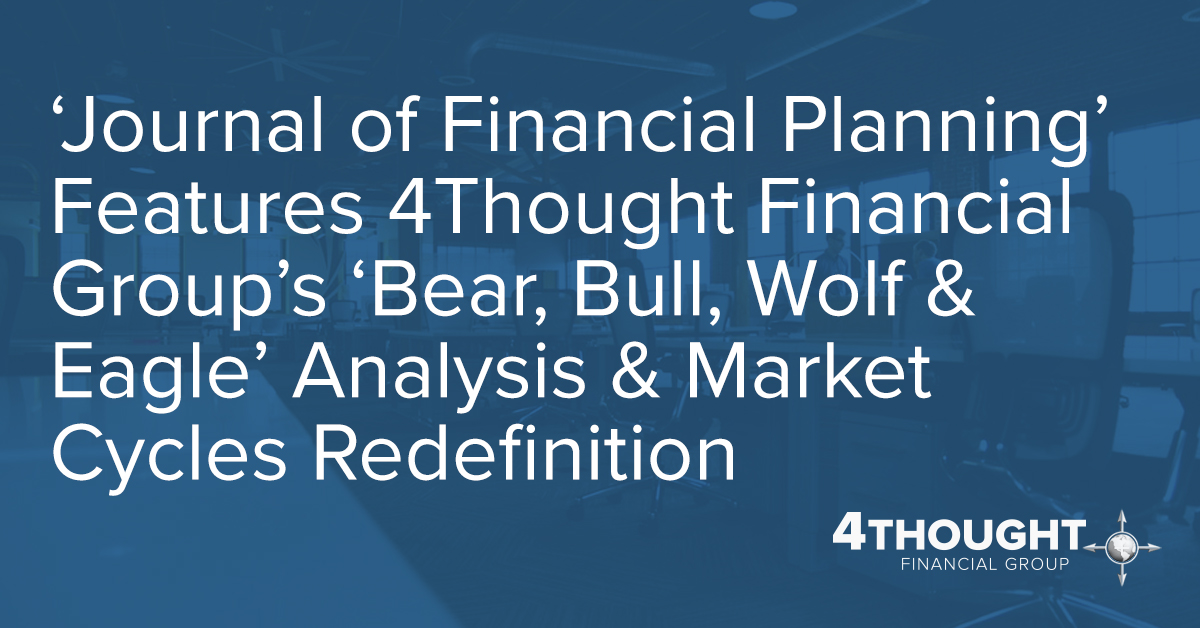 Free WHITE PAPER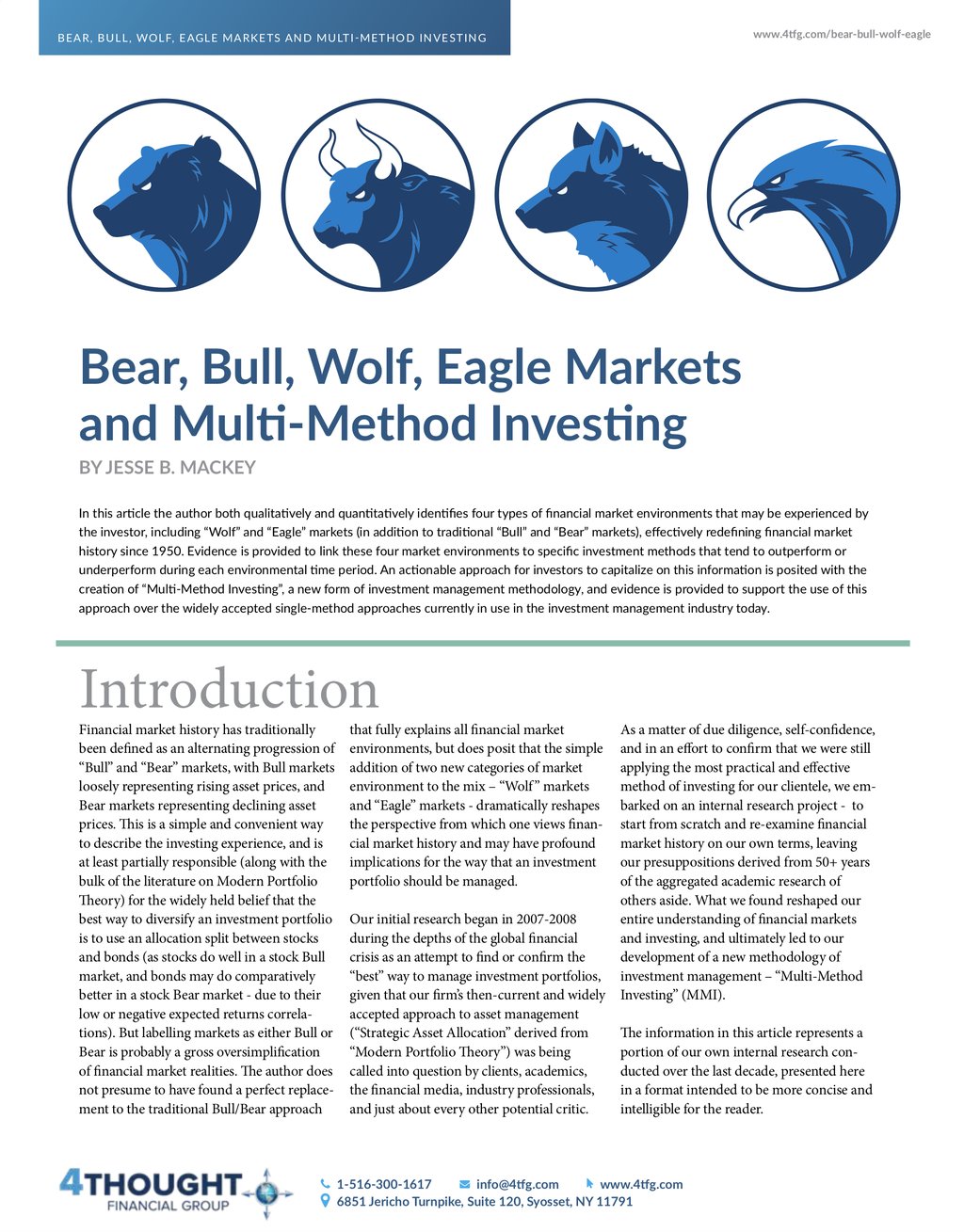 Download the Full Analysis
Understanding "Wolf" and "Eagle" markets, in addition to the traditional "Bull" and "Bear", and how select investment methods tend to perform in each environment.
4Thought Financial Group proudly announces the publication of an investment management column by its chief investment officer Jesse Mackey in the June print, online and mobile editions of the award-winning, peer-reviewed Journal of Financial Planning.
Titled "Can We Better Understand Markets with a Four-Environment Perspective?" the article introduces, defines, and breaks down in meticulous detail the reclassification of market cycles into four distinct, yet overlapping environments. In addition to the traditionally accepted categories of bear and bull, it identifies "wolf" and "eagle" markets to describe marked periods of downward price corrections and rapid price surges, respectively.
In this context, the piece re-examines the history of the S&P 500 Index from January 1950 to December 2017, noting the frequency and duration of each market, and ultimately stressing the four-environment perspective's potential significance for investment portfolio management.
"Bear, Bull, Wolf & Eagle" resides at the heart of the New York-based financial planning and wealth management firm's "Multi-Method Investing®" strategy, with respective links to each of the approach's four distinctive pillars—liability-driven investing, strategic asset allocation, opportunistic investing and selective/concentrated investing—the culmination of years of historical financial market research and analytics.
Read & Download the Full 'Bear, Bull, Wolf & Eagle' Analysis
"Financial market history has traditionally been defined as an alternating progression of bull and bear markets," writes Mackey. "This is a convenient way for financial planners to describe the investing experience to clients, and it's partially responsible for the belief that the best way to diversify an investment portfolio is to use an allocation split between stocks and bonds (as stocks do well in a stock bull market, and bonds may do comparatively better in a stock bear market).
"However, labeling markets as either bull or bear may be an oversimplification of financial market realities," he continues. "The addition of two other categories of market environment—wolf markets and eagle markets—reveals a greater complexity in market history and may have implications for the management of investment portfolios."
The official publication of the Financial Planning Association (FPA)—the Denver, Colo.-based leadership, advocacy and principal membership organization for certified financial planners (CFPs), associated educators, financial services providers and students—the monthly Journal of Financial Planning is the only such circulating to the majority of CFPs, including all FPA members.
Considered the gold standard of financial planning publications by the trade group, the journal boasts a circulation of more than 40,000 professionals via its print magazine, online website and digital mobile app. The Journal of Financial Planning won the 2018 APEX Grand Award in the annual APEX Awards for Publication Excellence Competition. Its June issue focuses on "Trends in Investing."
Read & Download a PDF of the Full Journal of Financial Planning Article by 4Thought Financial Group CIO Jesse Mackey
4Thought Financial Group
Questions regarding our 'Bear, Bull, Wolf & Eagle' analysis, Multi-Method Investing® strategy, the different types of financial planning services, retainer fee-based wealth management, or other aspects of your financial life? Download our FREE white paper above, and Contact 4Thought Financial Group, Today.
Financial Planning and Investment Advisory Services are offered through 4Thought Financial Group Inc., an SEC Registered Investment Adviser. This document is for informational purposes only and does not constitute a complete description of our services or performance. This is in no way a solicitation or offer to sell financial planning or investment advisory services except, where applicable, in states where we are registered or where an exemption or exclusion from such registration exists. This information is not to be construed as legal or tax advice. Consult with an attorney and/or an accountant before taking any action on the information provided.