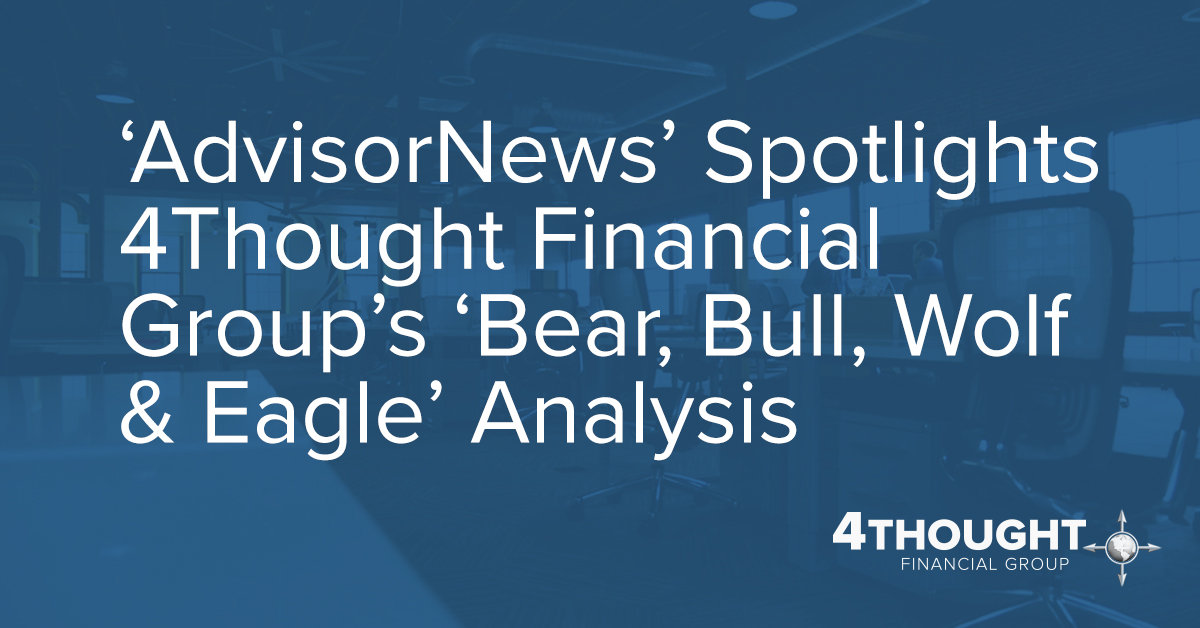 Free WHITE PAPER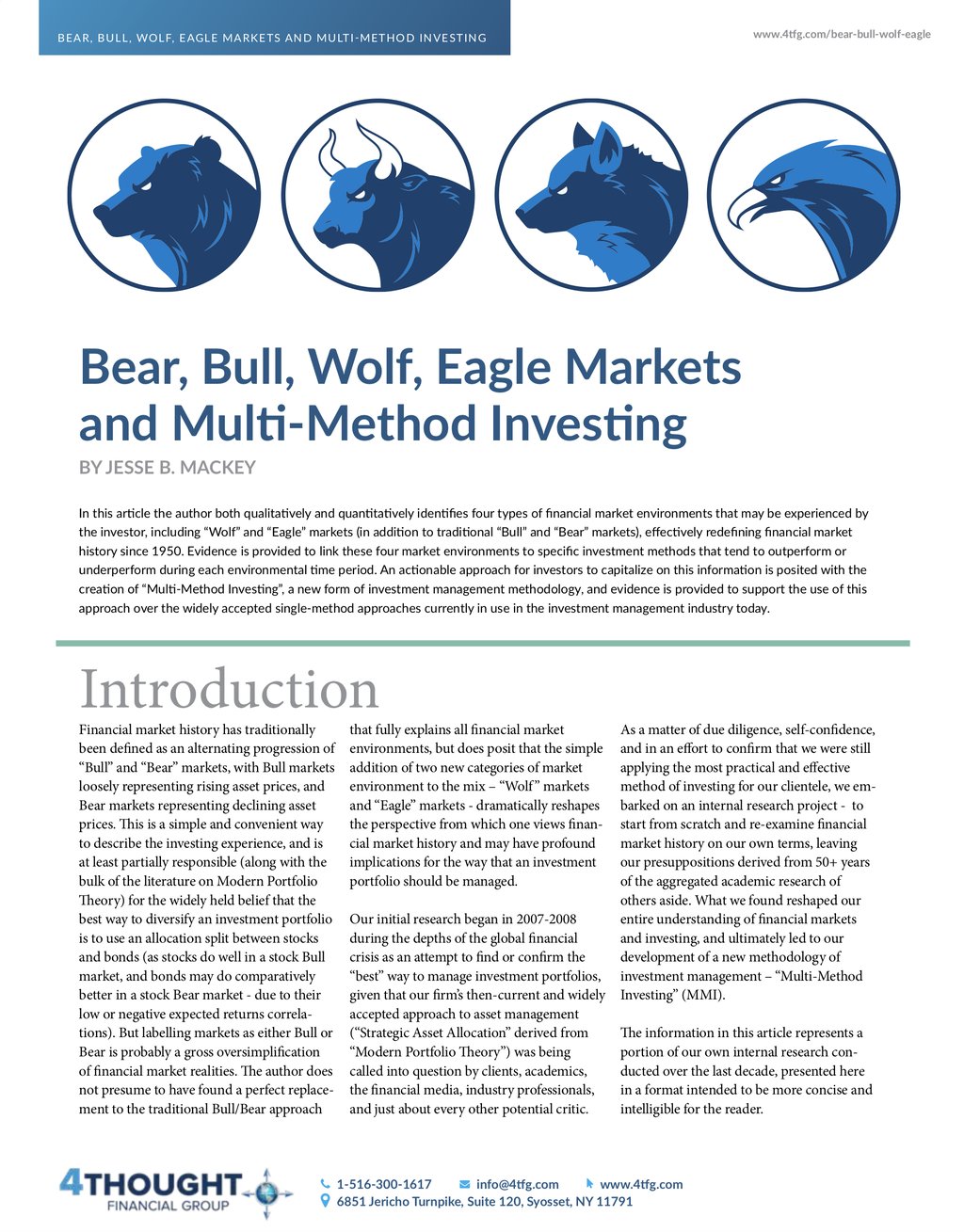 Download the Full Analysis
Understanding "Wolf" and "Eagle" markets, in addition to the traditional "Bull" and "Bear", and how select investment methods tend to perform in each environment.
4Thought Financial Group is proud to announce the award-winning financial industry trade magazine and news site AdvisorNews has recently published an interview with its chief investment officer Jesse Mackey highlighting the New York-based financial planning and wealth management firm's "Bear, Bull, Wolf & Eagle" analysis redefining traditional market cycles.
Titled "Bulls And Bears And Wolves, Oh My?" the article details the history, key aspects, philosophy and application of this potentially groundbreaking assessment, which lies at the core of the firm's "Multi-Method Investing®" strategy's four distinct pillars: Liability-Driven Investing, Strategic Asset Allocation, Opportunistic investing and Selective/Concentrated Investing.
The AdvisorNewspiece includes informative breakdowns of each "Bear, Bull, Wolf & Eagle" classification, along with definitions, characteristics, notable examples, and the investment strategies best suited for that particular respective market environment.
Read & Download the Full 'Bear, Bull, Wolf & Eagle' Analysis Here
"This way of explaining the market matches the current market conditions with investments that are better-suited to handle those conditions," reads the article.
"This new method is eye-catching, but Mackey believes it's better able to serve modern clients than the usual bull-bear perspective," it continues.
AdvisorNews is the second financial industry publication featuring 4Thought Financial Group and its 'Bear, Bull, Wolf & Eagle' analysis this month. The nonprofit Financial Planning Association's award-winning magazine, financial news outlet and mobile app the Journal of Financial Planning included it in its June editions.
Along with sister publication InsuranceNewsNet, AdvisorNews is distributed online, in print and via newsletter to insurance and financial professionals, including more than 120,000 registered financial advisors, and boasts more than 225,000 online and 50,000 print magazine subscribers.
Read the Full AdvisorNews Article Featuring 4Thought Financial Group CIO Jesse Mackey Here
4Thought Financial Group
To learn more about our 'Bear, Bull, Wolf & Eagle' analysis and associated Multi-Method Investing® strategy, retainer fee-based wealth management, the different types of financial planning services, or other components of your financial life, Download Our FREE White Paper above, and Contact 4Thought Financial Group, Today.
Financial Planning and Investment Advisory Services are offered through 4Thought Financial Group Inc., an SEC Registered Investment Adviser. This document is for informational purposes only and does not constitute a complete description of our services or performance. This is in no way a solicitation or offer to sell financial planning or investment advisory services except, where applicable, in states where we are registered or where an exemption or exclusion from such registration exists. This information is not to be construed as legal or tax advice. Consult with an attorney and/or an accountant before taking any action on the information provided.