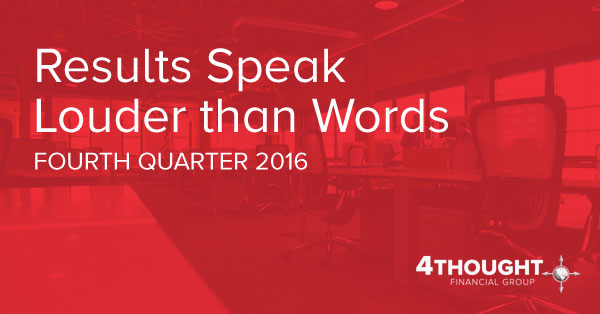 4Thought Separate Accounts rank #1 and #2 in Morningstar's "World Stock" category for 2016, Top 25% for 10 out of 18 strategies offered (As of 12/31/16)
Thematic Systematic Investing: Top 1% – 1-Year percentile ranking out of 407 World Stock managers as of 12/31/16
#1 – 1-Year absolute ranking out of 407 World Stock managers as of 12/31/16
---
Global Thematic Accumulation: Top 1% – 1-Year percentile ranking out of 407 World Stock managers as of 12/31/16
#2 – 1-Year absolute ranking out of 407 World Stock managers as of 12/31/16
---
Multi-Contingency Aggressive: Top 3% – 1-Year percentile ranking out of 180 World Allocation managers as of 12/31/16
#5 – 1-Year absolute ranking out of 180 World Allocation managers as of 12/31/16
---
Global Opportunistic Distribution: Top 5% – 1-Year percentile ranking out of 47 Multialternative managers as of 12/31/16
#3 – 1-Year absolute ranking out of 47 Multialternative managers as of 12/31/16
---
Multi-Contingency Moderate: Top 9% – 1-Year percentile ranking out of 333 Allocation 30 to 50% Equity managers as of 12/31/16
#31 – 1-Year absolute ranking out of 333 Allocation 30 to 50% Equity managers as of 12/31/16
---
Global Strategic Distribution: Top 11% – 1-Year percentile ranking out of 49 Target-Date Retirement managers as of 12/31/16
#6 – 1-Year absolute ranking out of 49 Target-Date Retirement managers as of 12/31/16
---
Opportunistic Systematic Investing: Top 11% – 1-Year percentile ranking out of 47 Multialternative managers as of 12/31/16
#6 – 1-Year absolute ranking out of 47 Multialternative managers as of 12/31/16
---
Traditional Moderate Allocation: Top 16% – 1-Year percentile ranking out of 333 Allocation 30 to 50% Equity managers as of 12/31/16
#52 – 1-Year absolute ranking out of 333 Allocation 30 to 50% Equity managers as of 12/31/16
---
Multi-Contingency Conservative: Top 16% – 1-Year percentile ranking out of 162 Allocation 15 to 30% Equity managers as of 12/31/16
#27 – 1-Year absolute ranking out of 162 Allocation 15 to 30% Equity managers as of 12/31/16
---
Global Opportunistic Accumulation: Top 16% – 1-Year percentile ranking out of 47 Multialternative managers as of 12/31/16
#8 – 1-Year absolute ranking out of 47 Multialternative managers as of 12/31/16
---
Want to learn more about our investment management services?
Find out how 4Thought Financial Group could help you achieve your goals.
---
Past performance is no guarantee of future results.
Investment advisory services and Separately Managed Accounts offered through 4Thought Financial Group Inc., an SEC Registered Investment Adviser. The rankings provided are based on Gross of fees returns for the period ended 12/31/16, amongst managers reporting to Morningstar for the full time period referenced. 4Thought Financial Group Inc. claims compliance with the Global Investment Performance Standards (GIPS®)*. The verification report is available upon request. For a list of composite descriptions or to obtain a fully compliant GIPS Performance Disclosure Presentation please email 4Thought at info@4tfg.com. The GIPS firm definition excludes any third party asset management programs over which 4Thought maintains oversight advisory agreements on behalf of its clients, any arrangements under which 4Thought provides recommendations for client self-implementation, and any assets under advisory but not under direct management (in which 4Thought provides allocation changes or trading signals to third party firms but does not take discretion over the trading of client accounts). The referenced composites include only discretionary accounts under management. Accounts enter each composite upon the first full month under management. Results are calculated internally by 4Thought and the firm is verified as compliant by a third party verification firm. Results are based on fully discretionary accounts under management, including those accounts no longer with the firm. Policies for valuing portfolios, calculating performance, and preparing compliant presentations are available upon request.
Rankings and ratings provided are based on gross-of-fees returns, and therefore the deduction of fees is not reflected in this data or in the data of competitors to which 4Thought's composites are compared. All-inclusive/Bundled/Wrap fee accounts pay a fee based on a percentage of assets under management. Other than brokerage commissions this fee includes investment management, portfolio monitoring, consulting services, and in some cases, custodial services. Wrap/Bundled fee accounts make up 100% of 4Thought's composites for all periods shown. Wrap fee schedules are provided by independent wrap sponsors and are available upon request from the respective wrap sponsor. The total wrap fee incurred by end-user investors varies between 0.55% and 1.85%, depending on the wrap sponsor and any additional markup added by advisors serving the client.
Past performance is no guarantee of future results. The value of an investment may fall as well as rise. Investor principal is not guaranteed, and investors may not receive the full amount of their principal upon making withdrawals from their account if asset values have fallen. Investments in Separately Managed Accounts are not FDIC-insured, nor are they deposits of or guaranteed by a bank or any other entity, so they may lose value. Investors should carefully consider the investment objectives, risks, charges and expenses. This and other important information is contained in the composite description and 4Thought's Form ADV Part 2, which can be obtained from 4tfg.com or by calling (516) 300-1617, and should be read carefully before investing. The strategy(ies) referenced use investment techniques with risks that are different and in addition to the risks ordinarily associated with equity investments. Such techniques include active management risks, non-diversified/concentration risks, unconstrained asset allocation risks, high portfolio turnover risks, exchange traded fund risks, debt securities risks, currency risks, and foreign investment risks, which may increase volatility and may increase costs and lower performance.
© 2017 Morningstar. All Rights Reserved. The information contained herein: (1) is proprietary to Morningstar and/or its content providers; (2) may not be copied or distributed; and (3) is not warranted to be accurate, complete or timely. Neither Morningstar nor its content providers are responsible for any damages or losses arising from any use of this information. Past performance is no guarantee of future results.
Securities offered through American Portfolios Financial Services, Inc. (APFS) Member FINRA/SIPC. This data, provided by a 3rd party, is for informational purposes only. American Portfolios Financial Services Inc. (APFS) and/or American Portfolios Advisors, Inc. (APA) makes no claim as to the accuracy, completeness, timeliness or fitness of the data. APFS/APA assumes no liability at all for any action taken in reliance on the data. 4Thought Financial Group, Inc. is not affiliated with APFS and or APA.