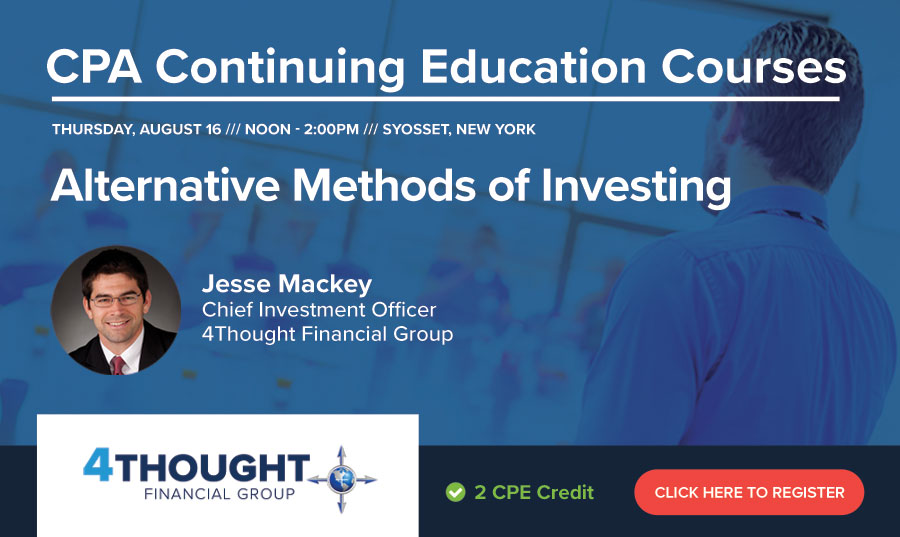 Learn about the different Alternative methods of Investing that professional investment managers may use to manage your clients' portfolios.
In this 2 CPE credit session, we'll explore the four primary methods of investment management used in the professional asset management industry. An overview of the concepts behind Strategic Asset Allocation, Liability-Driven Investing, Opportunistic Investing, and Selective/Concentrated Investing will be provided, to give CPAs a framework for understanding what is happening in their clients' professionally managed portfolios.
This course will be presented by Jesse Mackey, 4Thought Financial Group's Chief Investment Officer. Please join us.
4Thought Financial Group will be presenting an informative, 2 CPE credit-eligible course on Alternative Methods of Investing, on Thursday, August 16, from noon to 2 p.m. at its office at 6851 Jericho Tpke., Suite 120, in Syosset, NY. A light lunch will also be served.
---
Investment Advisory Services offered through 4Thought Financial Group Inc., an SEC Registered Investment Adviser.