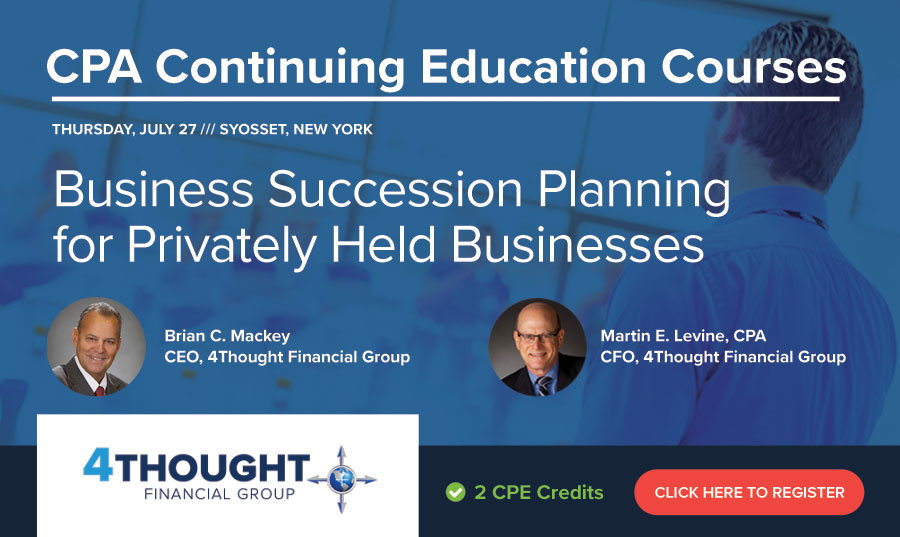 Business owners do not last forever. As trusted advisors, the CPA should ensure their business owner clients have some form of succession plan in place to properly prepare for both the anticipated, and unexpected, events of the future.
A well-thought-out succession plan may be the difference between a business succeeding or not. Replacing an owner affects not only his/her successor, but employees, suppliers, customers, and any other stakeholders. Who will the new owner be? Who has the qualifications to assume such a position? What succession planning vehicles are available? When, exactly, will the transfer of ownership take place?
These are all valid concerns. A succession plan will help facilitate a smooth transfer and ensure the business remains in qualified and capable hands. Consider it a vital survival strategy.

Areas to be covered include: lifetime gifting strategies, the use of defective trusts, buy-sell agreements, structuring buyouts, and the use of various classes of stock.

4Thought Financial Group will be hosting an informative, 2 CPE credit-eligible seminar on business succession planning on July 27, from 8 a.m. to 10 a.m. A light breakfast will also be served.