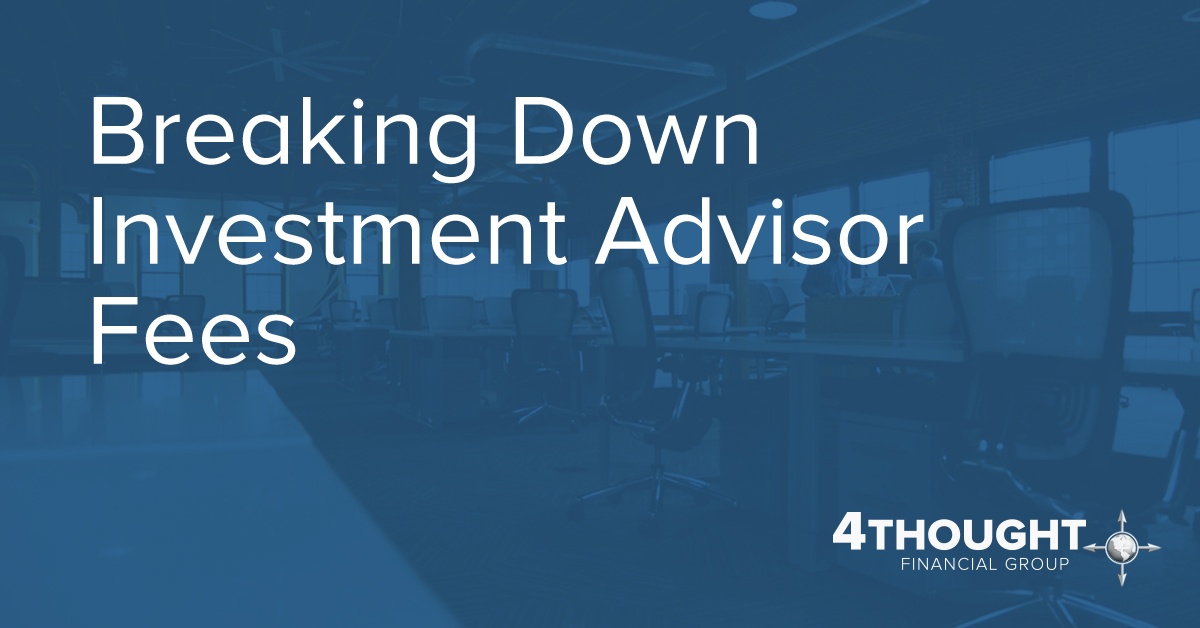 Info Sheet - PDF Download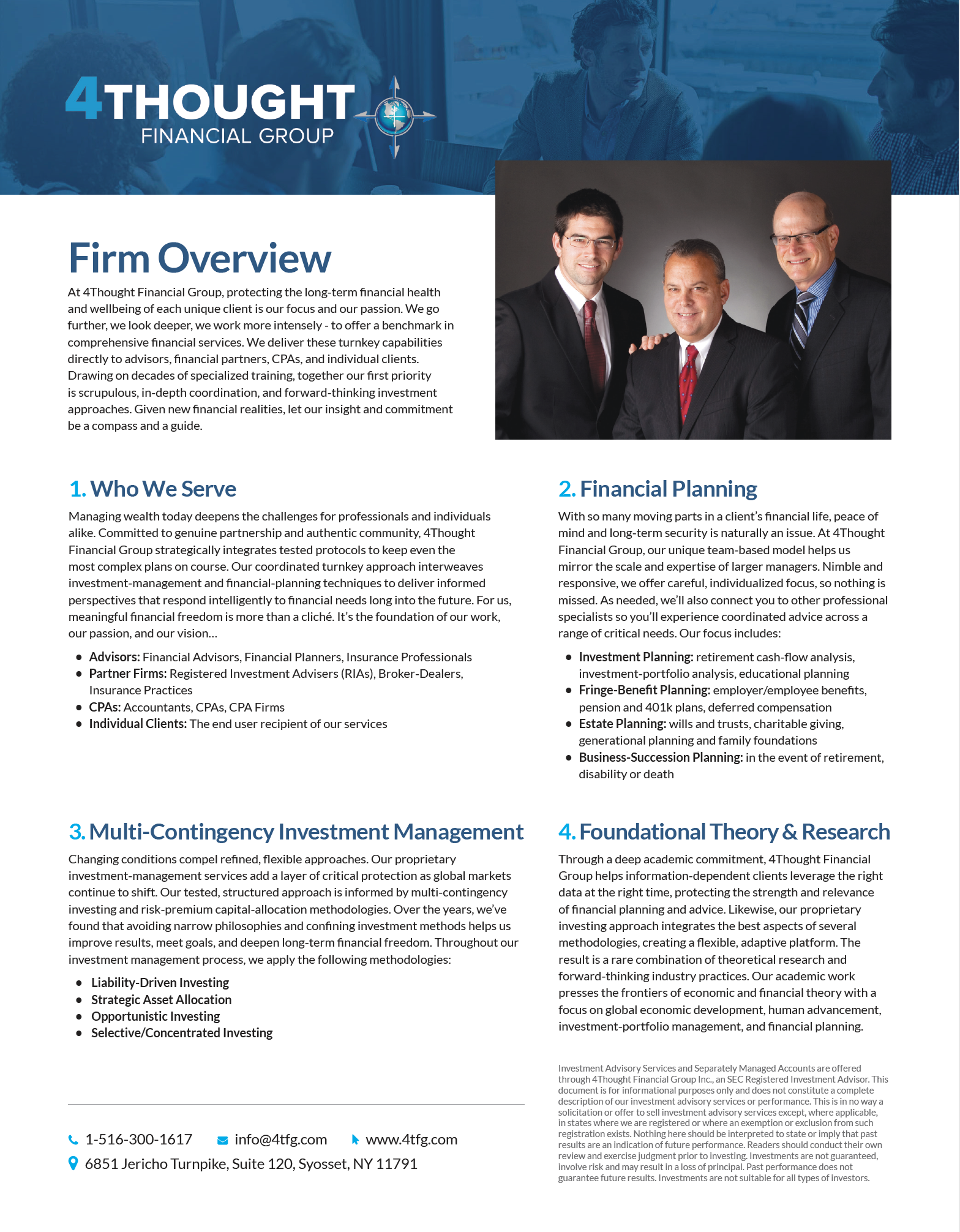 4Thought Financial Group Firm Overview
"Protecting the long-term financial health and wellbeing of each unique client is our focus and our passion. Drawing on decades of specialized training and experience, let our insight and commitment be a compass and a guide."
View the PDF
Save the PDF
If you've started to dabble in the world of stocks and investments or are thinking about doing so in the near future, you'll want to have a better understanding of the various fees associated with working with an investment advisor. Of course, you're probably thinking that you can do without an investment advisor in order to avoid having to pay any fees, but even some of the savviest investors utilize an investment advisor.
That being said, investment advisor fees can also vary, depending upon who you're working with. Some investment advisors may prefer to be paid via a commission, while others will just charge you a standard hourly rate. Other types of fees can include a percentage of assets, fees for completing specific projects and retainer fees. A better understanding of the different types of investment advisor fees you may have to pay will help you to make an informed decision about who you would like to work with.
1. Percent of Account Value
Many investment advisors will use this method to charge you for their services. Essentially it means that they earn a percentage of the value of your investment accounts. Subsequently, the more your investments grow, the more money the advisor will make, so it is of course in their best interests to help you as much as possible. However, if the advisor is offering financial planning as part of their services in addition to investment management, their percentage rate may be higher.
2. Fee-Only or Fee-Based
When an advisor charges you a percent of account value, they will also likely be either fee-only or fee-based. If they're the former, then your advisor will be paid only for providing advice and for the ongoing management of the portfolio, whereas if they are the latter, the advisor might also have the option of charging you a commission on the sale of any other financial products sold to you outside of the managed advisory account.
Note: Percent of account value and the associated fees are often investors' preferred method of payment, as the fees are automatically debited from your accounts, eliminating the need to write checks or ensure payment is on time.
3. Commissions
Another common method of payment of investment expenses is to pay the "advisor" (who is actually acting as a broker/salesperson) a transactional commission on various securities buys and sells in accounts that they set up for you, such as with mutual funds and brokerage accounts. If you come across a financial professional who is paid in this way, be sure to ask for all the details as to how much they are paid if you take their advice and buy their recommended products.
Note: Some investment advisors might also charge a combination of fees and commissions. As mentioned above, this can be referred to as a fee-based payment method.
4. Hourly Rate
If you simply want financial advice and prefer to do a lot of the actual investing on your own, you might do well with an investment advisor that simply charges an hourly rate. In this way, you will only pay for the time in which you are working with or receiving advice from the investment advisor, rather than additional fees or commissions on investment products.
This can save you a lot of money, as you will not have to pay the advisor additional fees or commissions as your accounts grow in value. You just have to be sure that you are receiving and acting upon good, sound advice, as there is no incentive to the advisor to ensure you do well, other than wanting to maintain a solid reputation as a good advisor. In addition, you'll be responsible for actually implementing all of the recommendations yourself (and paying for implementation separately through a third party broker).
5. Retainer Fees
If you would like to have a financial advisor whom you can always turn to, whether for personal investment needs or those related to a business, you might consider having one on retainer. In this manner, you pay the advisor a fixed monthly, quarterly or annual fee for any work he may do for you during those time periods. This arrangement is often the best for someone who wants to get comprehensive financial planning advice in addition to investment advice. Similar to the hourly rate fees, you are not necessarily directly paying any percentage fees to the advisor on accounts that grow -- rather, you are just paying for ongoing advisement and planning. However, you'll have to implement investment advice somehow, so depending on whether the advisor also provides an implementation platform, you may be able to pay for this service separately through him/her (possibly at a reduced or zero rate), or you'll have to implement through a third party yourself.
6. Flat Fees for Projects
Some investment advisors might also charge a flat fee for handling specific tasks or completing specific projects. This could be anything from the development of a retirement plan or estate plan, to the setting up of a 401(k), to putting together a portfolio. Be sure to ask what the fees will be before any project is undertaken by the advisor, and work with an advisor you trust to ensure you're receiving sound advice and quality work.
According to The Balance, a financial planning and advice website, you should always ask any investment advisor you speak with how they will be paid before hiring them. Additionally, you will want to do your due diligence to ensure that the advisor you pick is honest and straightforward. Lastly, be sure to find out about all of the services the investment advisor offers -- the full suite of services (or lack thereof) might not always be readily apparent.